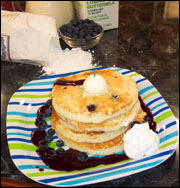 COMMENT: Blueberries are coming into season now in Louisiana, and these blueberry pancakes are a perfect way to start your day. These pancakes can also be made year-round with rinsed and dried frozen blueberries
INGREDIENTS:
2 cups buttermilk

2 cups all-purpose flour

2 tbsps sugar

2 tsps baking powder

½ tsp baking soda

½ tsp salt

1 large egg

3 tbsps butter, melted

½ tsp vegetable oil

1 cup fresh or frozen blueberries

METHOD:
Place buttermilk in a medium mixing bowl. In a separate large mixing bowl, whisk flour, sugar, baking powder, baking soda and salt until combined. Whisk egg and melted butter into milk until combined. Make a well in the center of dry ingredients in bowl. Pour in milk mixture and whisk very gently until just combined. Do not overmix. Heat a 12-inch nonstick skillet over medium heat for 3-5 minutes. Add 1 tsp oil and turn to coat skillet evenly, using a pastry brush if necessary. Pour ¼ cup batter onto skillet and sprinkle 1 tbsp blueberries over each pancake. Cook pancakes until large bubbles begin to appear, 1½ to 2 minutes. Using thin, wide spatula, flip pancakes and cook until golden brown on second side, 1 to 1½ minutes longer. Serve immediately. Repeat with remaining batter, using remaining vegetable oil only if necessary.