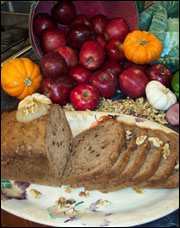 COMMENT:
Apples are widely used in German cooking. You can find them in desserts, salads and even main dishes. In this recipe we have combined apples and walnuts to create a moist, sweet bread that can be served as a dessert or as a breakfast or brunch item.
INGREDIENTS:
2 cups grated apples or applesauce

1/2 cup chopped walnuts

2/3 cup shortening

2 2/3 cup sugar

4 eggs

2/3 cup water

3 1/3 cup flour

2 tsps baking soda

1 tsp ground cinnamon

1 tsp ground cloves

1 tsp salt

METHOD:
Preheat oven to 325°F. Spray 2 (8" x 4" inch) loaf pans with vegetable spray. In the bowl of your home-style mixer, cream shortening and sugar on medium-high speed. Beat in eggs, apples (or applesauce) and water. In a separate bowl, sift together flour, baking soda, cinnamon, cloves and salt and blend into the creamed shortening mixture. When well blended, add walnuts. Divide the batter evenly between the loaf pans. Bake on the middle rack of the oven for 1 hour or until a toothpick inserted into the center of the loaf comes out clean. Remove from oven and allow to cool for 10 minutes before removing from the pans. Serve thick slices with a dollop of applesauce, sour cream or Creole cream cheese.