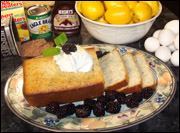 COMMENT: This low-fat quick bread is not loaded with oil or shortening, but it is made light and fluffy by using a meringue. This is the perfect accompaniment to that morning cup of coffee or tea, or enjoy it as a light dessert topped with fat-free whipped topping and your favorite fruit.

INGREDIENTS:
½ cup fresh lemon juice
1½ tsp grated lemon zest
1 tsp lemon extract
1 tbsp poppy seeds
2 cups all-purpose flour
1¼ cups sugar
2 tsps baking powder
¼ tsp baking soda
¼ tsp salt
¾ cup unsweetened applesauce
2½ tbsps vegetable oil
2 tbsps corn syrup
4 egg whites
METHOD:
Preheat oven to 350 degrees F. Lightly spray an 8½" x 4½" loaf pan with vegetable oil spray. Line with a rectangle of parchment paper so that the edges of the paper fold over the long sides of the pan. This will act as a handle to remove the finished cake. Set aside. In a medium bowl, combine flour, sugar, poppy seeds, baking powder, baking soda and salt. In another medium bowl, combine applesauce, lemon peel, lemon juice, vegetable oil, corn syrup and lemon extract. Pour the applesauce mixture into the flour mixture. Stir gently until just combined. Do not over mix. In a large bowl, beat the egg whites with a hand mixer until they form stiff peaks. Using a rubber scraper, fold the flour mixture into the beaten egg whites. Pour mixture into the prepared loaf pan and smooth top with a spatula. Bake for 30 minutes, or until a toothpick inserted into the center comes out clean. Cool in pan for 10 minutes. Remove using the parchment paper as a handle and peel parchment off of the cake. Cake can be served warm, at room temperature or chilled. When serving, top with fat-free whipped cream topping and your favorite fresh fruits.