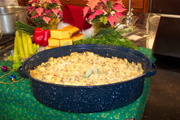 COMMENT:
Most often in South Louisiana meat and oyster dressings are found as accompaniments to the holiday table. The bread or corn bread dressings are definitely southern in tradition, but seldom seen in Bayou Country. Since I am a fan of both the meat and the corn bread dressing, I've decided to share one of those versions with you here.
Note: As an added flavor enhancer you may wish to add one pint of shucked oysters with liquid to the pot during the final cooking phase.
INGREDIENTS:
1 cup yellow cornmeal
½ cup flour
2 tsps baking powder
1 tsp salt
2 tbsps sugar
2 tbsps melted butter
1 egg
¾ cup milk
4 chicken leg quarters
½ cup diced onions
½ cup diced celery
½ cup chopped red bell pepper
1 tbsp minced garlic
¼ tsp rubbed sage
1/8 tsp dried basil leaves
1/8 tsp dried thyme
3 tbsps melted butter
¼ cup chopped pimientos
¼ cup sliced green onions
¼ cup chopped parsley
salt and black pepper to taste
METHOD:
Preheat oven to 400°F. In a mixing bowl combine cornmeal, flour, baking powder, salt and sugar. Blend well to incorporate all dry ingredients. Whisk egg with 2 tablespoons melted butter and milk then add to cornmeal mixture, blending thoroughly. Pour corn bread batter into a well-greased 9-inch cake pan and bake 15-20 minutes. When done, remove and cool. Separate chicken legs from thighs. In a 2-quart stock pot place chicken, onions, celery, bell pepper and garlic. Cover with 6 cups cold water, bring to a rolling boil, reduce to simmer and cook 30-40 minutes or until chicken is tender and falling from bones. Remove chicken and cool. Retain stock and seasoning. Lower oven temperature to 375°F. When chicken is cool, bone and dice. Return meat to pot along with stock and seasonings then add sage, basil, thyme, butter, pimientos, green onions and parsley. Bring to a rolling boil, reduce to simmer and cook 15 minutes. If oysters are to be added, put oysters and liquid into pot and cook 2 minutes longer. Pour contents of pot through a strainer, capturing chicken and vegetable seasonings, while reserving 3 cups of stock. While chicken is draining, crumble corn bread into a large mixing bowl and season reserved stock with salt and pepper. Place drained chicken mixture into crumbled corn bread bowl along with 2½ cups seasoned stock. Stir until well-blended. Dressing should be very moist, but not watery. Pour dressing back into 9-inch cake pan, and drizzle with 3-4 tablespoons of remaining stock. Bake uncovered 20-30 minutes or until dressing begins to brown lightly around edges. Dressing may be made the evening before cooking, but should be baked immediately prior to serving. Do not overcook as dressing will tend to dry out.