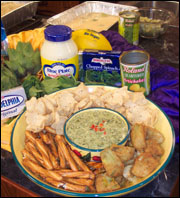 COMMENT:
It's football season again—time to get together with friends and cheer for your favorite team. Whether you're tailgating at the stadium or watching the game from home, enjoy this delightful blend of spinach and artichokes.
INGREDIENTS:
1 (10-ounce) package frozen chopped spinach, thawed, drained and squeezed dry

1 (14-ounce) can artichoke hearts, drained and chopped

2 (8-ounce) packages cream cheese, softened

½ cup mayonnaise

1 cup grated Parmesan cheese

1 tsp minced garlic

2 tbsps lemon juice

salt and black pepper to taste

cayenne pepper to taste

METHOD:
Preheat oven to 375°F. Lightly grease an 8" x 8" baking dish. In a medium mixing bowl, blend together cream cheese and mayonnaise until smooth. Mix in spinach, artichoke hearts and Parmesan cheese. Add garlic and lemon juice. Season to taste with salt and peppers. Spread evenly into baking dish. Cover dish with foil and bake for 20 minutes. Remove foil and bake for 5 additional minutes or until slightly browned. Serve with tortilla chips, breadsticks, pretzels or veggies. For a more elegant presentation, dredge quartered artichoke hearts in egg wash and Italian breadcrumbs, deep fry until crispy and use for dipping instead of chips.
Note: This recipe can also be made in a slow cooker and cooked until heated thoroughly, approximately 1–1½ hours.