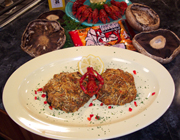 Comment: The meaty quality of Portobello mushrooms makes it an excellent addition to Lenten menus. When topped with this spicy mixture of Louisiana crawfish tails and dusted with Parmesan cheese, a perfect appetizer or light entrée is created.
Ingredients for stuffing:
1 pound crawfish tails
4 Portobello mushroom caps
3 tbsps butter
½ cup diced onions
½ cup diced celery
½ cup diced red bell peppers
¼ cup diced garlic
¼ cup mayonnaise
1 egg
2 tbsps minced parsley
2 tsps Worcestershire sauce
2 tsps lemon juice
1 tbsp Old Bay seasoning
1 tsp Creole mustard
½ tsp salt
½ tsp cracked black pepper
hot sauce to taste
1 cup Italian breadcrumbs
Method:
Preheat oven to 375°F. In a sauté pan, melt butter over medium-high heat. Add onions, celery, bell peppers and garlic. Sauté 3-5 minutes or until vegetables are wilted. Stir in crawfish and continue to sauté 5 minutes. Allow crawfish mixture to cool slightly. In a large mixing bowl, combine mayonnaise, egg, parsley, Worcestershire, lemon juice, Old Bay seasoning, Creole mustard, salt, pepper and hot sauce. Blend well then add in crawfish mixture. Sprinkle in breadcrumbs and mix well. Set the stuffing mixture aside.
Ingredients for mushrooms:
1/3 cup extra virgin olive oil
salt and black pepper to taste
½ cup shredded Parmesan cheese
¼ cup minced green onions
½ cup Italian breadcrumbs
paprika to taste
2 tbsps chopped parsley
Method:
Scrape the underside of each mushroom with a spoon to remove the black gills. Brush each mushroom inside and out with olive oil then season with salt and pepper. Fill each with equal amounts of crawfish stuffing. Top stuffing with Parmesan cheese, breadcrumbs and paprika. Place on cookie sheet and bake, uncovered, 15 minutes or until heated through. Garnish with chopped parsley and serve.