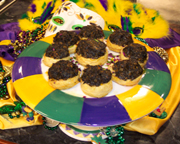 Comment:
One of the most famous soups in South Louisiana is oyster and artichoke bisque. The flavors of these two ingredients are often married in Louisiana cuisine. Here is just another example of the flavor of oysters and spinach used together to create a delicious appetizer. You may wish to try using crabmeat instead of oysters. Replace the cup of oysters with ½ pound of lump crabmeat.
Ingredients:
12 artichoke bottoms, fresh or canned
1 cup chopped oysters
¼ cup butter
½ cup minced onions
½ cup minced celery
¼ cup minced red bell pepper
1 tbsp diced garlic
3 cups cooked spinach
¼ cup tomato ketchup
salt and cracked pepper to taste
Louisiana hot sauce to taste
½ ounce Herbsaint or anise
½ cup seasoned Italian bread crumbs
¼ pound butter
1 ounce sherry
2 tbsps chopped parsley
Method:
Preheat oven to 350°F. If the artichoke bottoms are canned, soak in cold water for one hour to remove the brine and vinegar taste. In a heavy-bottomed skillet, melt ¼ cup butter over medium-high heat. Add onions, celery, bell peppers and garlic. Sauté 3-5 minutes or until vegetables are wilted. Chop the cooked spinach very fine and add to the vegetables. Blend well and add oysters. Stir until all ingredients are well incorporated. Simmer 5 minutes then add ketchup, salt, pepper and hot sauce. Lower heat to simmer and cook 10-15 additional minutes. Add Herbsaint, blend into the oyster and spinach mixture and remove from heat. Sprinkle in breadcrumbs and allow the mixture to cool slightly. Once cooled, stuff the center of each artichoke bottom with the oyster and spinach mixture. Place the artichokes in a large baking pan and top with an equal portion of melted butter and sherry. Sprinkle with parsley and bake uncovered for 15-20 minutes. Serve 2 artichokes with a spoon of sherry-butter sauce. You may wish to place one whole oyster on the bottom of the artichoke prior to stuffing.