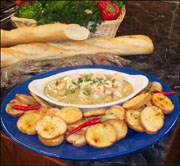 COMMENT:
This dish was named in honor of the famous Malarcher sugar planters of River Road Louisiana. Their sugar plantation was located in Convent, Louisiana, west of New Orleans. This is now a traditional Lafitte's Landing appetizer and has been for 25 years.
INGREDIENTS:
3 dozen (21-25 count) shrimp, peeled and deveined
¼ pound butter
1 tbsp diced garlic
¼ cup sliced green onions
¼ cup sliced mushrooms
¼ cup diced red bell pepper
¼ cup diced yellow bell pepper
¼ cup diced green bell pepper
2 tbsps flour
1 ounce dry white wine
2½ cups hot shrimp stock
1 tsp lemon juice
1 tsp parsley
salt and cracked black pepper to taste
METHOD:
In a heavy-bottomed sauté pan, melt butter over medium high heat. Sauté garlic, green onions and mushrooms approximately 2 minutes or until mushrooms are slightly wilted. Add bell peppers, stir into mixture and cook 1 additional minute. Add shrimp and stir fry into vegetables until shrimp begin to turn pink and curl, approximately 2 minutes. Sprinkle in flour and blend into dish until white roux is achieved. The flour will absorb most of the liquid in the pan and act as a thickening agent for the sauce. Deglaze with white wine and add hot stock. Whisk well into seasoning mixture. Add lemon juice and parsley and season to taste using salt and cracked pepper. Cook until sauce is thickened and shrimp are perfectly cooked but not overdone. Additional chicken stock may be added, should sauce become too thick. This dish may be served in an au gratin dish or heated chafing dish with garlic croutons.