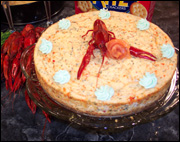 COMMENT:
Everyone loves cheesecake! In this recipe, I have made a savory cheesecake seasoned with crawfish and chives. Use this cake as an appetizer or serve it with crackers like a party cheese ball.
INGREDIENTS FOR CRUST:
6 tbsps melted butter
1 egg white
2 cups crushed butter crackers (like Ritz)

METHOD FOR CRUST:
Preheat oven to 350°F. In a small bowl, combine melted butter, egg white and crackers. Press mixture into the bottom of a 10-inch springform pan. Bake for 8 minutes to crisp. Remove from oven and cool. Reduce the oven temperature to 250°F.
INGREDIENTS FOR FILLING:
1 pound crawfish tails, chopped
3 (8-ounce) packages cream cheese, softened
½ cup sour cream
3 tbsps cornstarch
1 tsp salt
1 tsp Zatarain's Creole seasoning
2 tbsps minced onions
2 tbsps minced celery
2 tbsps minced red bell pepper
1/3 cup sliced chives
2 large eggs

METHOD FOR FILLING:
In a mixing bowl, blend cream cheese, sour cream, cornstarch, salt, Creole seasoning, onions, celery, bell pepper and chives. Blend well, scraping down the sides of the bowl. Add eggs and mix well, scraping down the sides of the bowl again. Fold in the chopped crawfish tails. Pour the batter over the cooled crust. Bake for 1 hour. Turn the oven off and leave the cake in the oven for another hour without opening the door. Cool on a rack for at least 4 hours. Carefully unmold. Keep refrigerated until ready to serve.