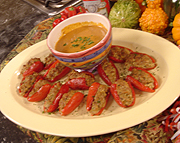 Comment:
These stuffed peppers are sure to spice up any tailgate party. They are also a wonderful hors d'oeuvre at any event.
Ingredients:
1 pound bulk Creole green onion pork sausage
20 jalapeño peppers, seeded and split lengthwise
¼ cup minced tasso
½ cup minced onions
½ cup minced celery
½ cup minced red bell peppers
¼ cup minced garlic
¼ cup chopped parsley
1 (11.5-ounce) container Bittersweet Plantation Dairy Creole Cream Cheese
1 cup shredded Parmesan cheese
salt and cracked black pepper to taste
ranch dressing or favorite dipping sauce, optional
Method:
Preheat oven to 425°F. In a Dutch oven or heavy-bottomed skillet, sauté sausage and tasso over medium heat. Add onions, celery, bell peppers, garlic and parsley. Continue to cook approximately 20 minutes or until meat is browned and vegetables are wilted. In a mixing bowl, combine Creole cream cheese and Parmesan. Fold cheese mixture into skillet. Spoon about 1 tablespoon of mixture into each jalapeño half. Place in baking dish and bake uncovered 15-20 minutes or until filling is lightly brown and bubbly. Serve with dressing or sauce if desired.